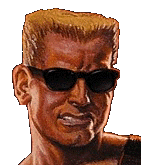 Duke Nukem
Alien Ass Kicker
From Duke: "My name is not spelled Nuke'em!"

3D Realms Duties

Kicking everyone and everything's ass. Showin' the 3D Realms boys exactly how to kick ass. They need to get out more often.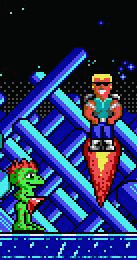 Projects Worked on
Duke Nukem (My first game and kinda cool, but pretty lame by today's standards)
Cosmo (I was in a secret area, just chillin' after saving the world again and some creepy little green dude came in and disturbed me. Good thing I had stuff to do, or I would have kicked his ass.)
Duke Nukem II (Still kinda lame, but getting better)
Duke Nukem 3D (Damn... I'm lookin' good)
Death Rally (It's great to get out there and run over people)
Balls of Steel (Play my table and get your hands on my balls)
Duke Nukem 64 (The N64 people needed to kick ass like the PC people)
Duke Nukem: Zero Hour (The N64 people needed their own original game)
Duke Nukem: Total Meltdown PSX (We can't leave out the PSX ass kicking folks)
Duke Nukem: Time to Kill PSX (Even more PSX ass kicking!)
Duke Nukem: Planet of the Babes PSX (About time we had a game all about babes!)
Duke Nukem: Manhattan Project (a really kick ass throwback scroller game)
Duke Nukem Forever (The pinnacle of ass kicking - at least until my next game after that)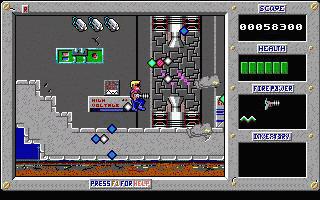 Duke Nukem I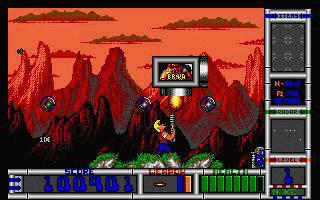 Duke Nukem II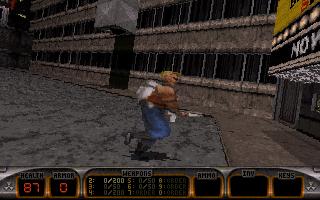 Duke Nukem 3D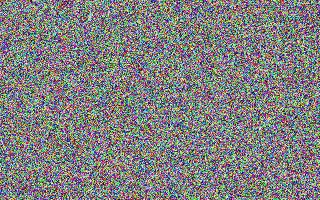 Duke Nukem Forever
Education / Career Highlights
Duke says, "After saving the world yet again, I did run for President of the United States in 1996. I got cheated out by those Alien Bastards, though. Some of my other career highlights were writing my book, "Why I'm So Great" (see below for a screen shot of the cover), as well as making an appearance on the Oprah Winfrey show. However, I was swiped by some Alien Bastards right off the set of the show, so that pissed me off, and I had to go kick their asses. The Oprah people were cool enough to release a picture of me when I was on the show (actually I threatened to kick their asses too). I also recorded an album called "Duke In Love", as well as having released a rather extensive line of merchandise (OK, a lot of stuff all about me)."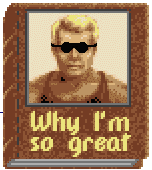 Other Interests / Hobbies

"When I'm not saving the planet from alien invasions, I like to kick back and play some pinball. Balls of Steel is awesome (that might have something to do with the fact that I'm in it!)
I also like watching action flicks. Arnold's stuff is pretty cool, but he's getting old. I think it's time I took over as the new action movie star. I also dig "Army of Darkness", and anything with naked chicks."

What He Drives

Deliverator (maxed out, of course).

Favorite Musician/Band

Henry Rollins Band (cause the dude has my haircut).

Favorite Sports Team

Oakland Raiders, but only cause Howie Long played for them and he kinda looks like me, only
less cool.

Favorite Computer Games

I'm too busy saving the world and scoring with chicks to play games. But if I gotta play one, I guess it's gonna be anything with me in it.

Quote
"It's time to kick ass and chew bubble gum, and I'm all outta gum!"