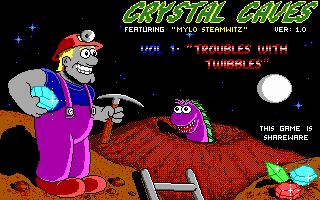 Enter an underground world of treasures and traps. This colorful EGA game (VGA compatible) rivals any commercial game with its arcade quality, puzzles and graphics. As Mylo Steamwitz, you'll enter cave after cave of adventure, gathering the treasures of each, while evading hazards galore! This game features the smoothest animated graphics ever seen in an Apogee game.

The game begins with Mylo rocketing to the Altairian star system on a simple treasure hunt. But what happens is far more dangerous than even Mylo bargained for. He enters an underground world of chambers full of alien technology and traps. Strange alien creatures and robots inhabit the caves, protecting the priceless crystals from money-greedy explorers.

Crystal Caves is a mixing of Nintendo's Mario Brothers, Commander Keen, and Indiana Jones. As with all Apogee games, a high priority has been placed on solving ingenious puzzles built into the game.

Variety is also evident in Crystal Caves. On some levels Mylo will even walk up-side-down! Other levels have such low gravity that the recoil from Mylo's laser pistol can knock him into other dangers! Some levels are without lights, and others are packed full of falling hammers egg-dropping alien bats, free roaming slither eyes, web-shooting alien spiders, and much, much more. Each level has all new graphics!

There are three unique episodes to the Crystal Caves saga: "The Trouble with Twibbles", "Slugging it Out", and "Mylo Verses the Supernova". Each episode has a unique story twist and graphics. Can you help Mylo strike it rich and quit his day job?
Originally released October 23, 1991.