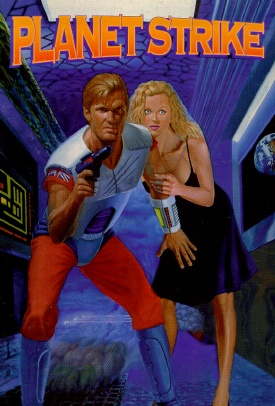 It's the 22nd century, galactic travel is commonplace, peace is at hand, and the future looks bright. Until Goldfire's plan to unleash an army of military mutants shocks the galaxy. Dr. Goldfire, a brilliant bio-scientist whose morbid research led to incredible genetic improvements in humanoids and aliens, has gone power crazy.
Only the galaxy's best agent, Blake Stone, has a chance to infiltrate Goldfire's secret fortress on a remote planet, and end the evil before it's too late. Up against absurd odds, and the most hideous genetic creatures and armed personnel ever amassed, it's up to you to help Blake in his most dangerous mission ever, classified: Planet Strike!
Once again, British military agent Blake Stone will find himself in a life or death struggle for the control of humanity's future. After a five year manhunt for the elusive Dr. Goldfire, the search has ended.
The trail has led Blake to the planet Selon, and to the abandoned STAR Institute Training Complex. If the reports are correct, then Dr. Goldfire is alive and has once again created a fiendish army of evil mutants. Blake is going to need all his wits, skill, and the best firepower money can buy to put an end to Goldfire's plans. Blake's mission is clear - he must use all his resources to destroy Dr. Goldfire before he can unleash his new army of mutant creatures on the universe.
UPDATED FEATURES
These features are all changes, improvements or additions to the features of the original Blake Stone: Aliens of Gold.
20 all-new levels with wildly new designs.
New wall/environment graphics throughout.
Cloaked actors that appear out of nowhere.
All-new alien-like guards (not the same three original guards).
Real-time Automap (multi-zoom: 2x MAG shows actors)
Four new bosses.
A new blaster weapon (anti-plasma cannon, can blast through doors).
Fission detonator blows security cube to unlock teleport.
3 morphing actors (first appear as statues, or other objects).
New hazards, like barriers and spikes.
Improved actor intelligence.
Blastable ammo (you can accidentally destroy ammo packs).
All new music.
Bobbing gun effect for realism.
Darker, more realistic levels (changing light conditions).
New, more realistic weapon graphics.
Originally released October 28, 1994.