FOR IMMEDIATE RELEASE
Garland, TX - April 30, 1997
For the second year in a row, Duke Nukem 3D, by 3D Realms Entertainment, and published by GT Interactive, won the coveted Spotlight Award at the annual Computer Game Developers Convention (CGDC). Duke won in the "Best Action Game" category, beating an incredibly impressive list of contenders: Tomb Raider, Quake, Super Mario 64 and Tekken 2.

The CGDC, which ended yesterday, had over 5000 attendees, mostly comprised of game developers from around the world. The CGDC is the premier convention for developers, and the Spotlight Award winners are selected by developers (not the press), giving these awards special meaning since they represent the recognition of industry peers.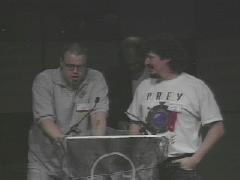 Paul Schuytema (shown with Prey T-Shirt on), project leader for 3D Realms' upcoming Prey, and Rick Raymo, producer at GT Interactive, collected the award at the podium, said a brief thanks, then were shuttled into a backroom where a horde of press asked questions about the big win.

Head of 3D Realms, George Broussard, said, "To win this two years straight, which I don't remember any other game doing, is both a stunning surprise and a real honor. Our friends in the developer community have continuously told us that Duke was a groundbreaking game and one of their favorites. This win is icing on the cake and perhaps the most important award for us to win, since it's from our fellow developers, whom we have high respect for."

Also announced at the CGDC were the Golden Fire Hydrant Awards, by Happy Puppy (www.happypuppy.com), the largest game site on the web. Duke Nukem 3D won eight awards of the 28 given, more than any other game. (For comparison, Quake won one award and Tomb Raider won one award). These awards are selected by game players who voted for their favorite games on the Happy Puppy web site.

Once again, Duke Nukem 3D won "Best Action Game," as well as these categories: "Best Audio Effects," "Best Original Character," "Best Use of Adult Theme," "Best Gratuitous Violence," "Funniest Line in a Game," "Best Use of Sarcasm" and "Best Cheats."

"What can I say," said Broussard. "Duke kicks butt. :)"

This news comes at the same time that 3D Realms announced that the next Duke game (Duke Nukem Forever) will be developed using id Software's leading-edge Quake technology, due for release in 1998. "Players can and should expect the same quality of gameplay, innovation, Duke's attitude and environment interaction as in Duke Nukem 3D," commented Broussard. "We will not let our fans down."
[END]