The winning entry was submitted by Ciaran McCarthy. It was: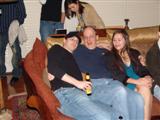 One woman was looking at Charlie's bottle.
One woman was looking at Keith's bald spot.
Both were thinking "Wow, that's big."

Some of the others (in no particular order):
"Is that a beer? Or are you just happy to see me?" (Doug Graham)
"A scene from the upcoming film, 'Weekend at Charlie's' (Rory O'Kelly)
Rose: "I'm sorry Charlie, I know you are Keith's work-wife but you're still not coming home with us tonight!" (Patrick Johnson)
Charlie's failed and desparate attempt to make Natalie Portman jealous (once again). Unfortunately no one mentioned to tell him that you have to make her jealous by hugging a woman. (Patrick Johnson again)
Here's Keith demonstrating how a non-descript white dude in his 30s is the biggest, must-have, arm-candy accessory since the hot asian wife. (Gautam Menon)
Keith contemplates whom will go home with him to put that "jingle" in his holiday spirit. Charlie and Rose try everything to impress Keith throughout the party but he has secretly chosen his companion for the night - Budweiser! (David Biggerstaff)
Charlie, instantly aroused by Keith's arm, attempts to hide the fact that he is 'pitching a tent' with a strategic placement of his beer bottle. Unfortunately, he does not fool either of the women - their eyes are drawn to the campsite like magnets... (Tom Hoelscher)
Keith's expression after a drunken Charlie whispers "would you like to taste my
shiner". (Justin Azgour)
And a couple of "special mentions":
I'm so glad Joe is so eager to exploit the true love between Keith and I. and Rose. And about 1/5th of Allen. (Charlie Wiederhold)
Rose's latest Christmas Party outfit is another in her failed attempts to show as much skin as her husband does on his head. (Joe Siegler)
In reality, this is Charlie Wiederhold, Keith Schuler, and Rose Schuler sitting on the sofa at the 2005 3D Realms company Christmas Party.