PC Gamer Cover Article about Duke Nukem Forever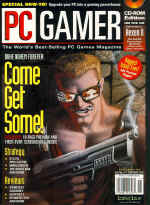 On the stands now is the November issue of PC Gamer Magazine. The cover article is an in depth look of Duke Nukem Forever, the next in the Duke Nukem game series. The 8 page article is chock full of information about the game, most of which has not been seen before anywhere. Also in the article are some screen shots. You can check them out at 3D Portal, who have scanned them in and placed them on their site.
Also included in the article are small sidebars about some of our other games (Max Payne & Prey), as well as brief interviews with Scott Miller & Paul Schuytema. Go to your newsstands and buy a copy today!

Posted by Joe Siegler on October 19, 1997 at 12:09 AM | Permalink
News Categories: Duke Nukem Forever