When It's Done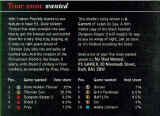 The UK version of PC Gamer has a monthly chart tracking the readers' most wanted coming games. The April '98 issue shows that Duke Nukem Forever is their readers' most wanted game, with a 35% rating. Prey also scores well on this list, at position number five. The article states, "Duke Nukem Forever has leapt straight into your hearts, got the bivouac out and settled down for a very long stay, leaping, as they say, light years ahead of Tiberian Sun, who sits and sulks at number two (15.5% share)." Click on the image to the right to see a large version of this article.
In all, there are six first-person shooters on the list, showing quite clearly the popularity of this style of game.
There hasn't been a lot shown of Duke Nukem Forever (or Prey), but we just got finished sending a bunch of screen shots to several top magazines. These magazines should appear around the time of E3, late May. Don't expect the hype machine to crank into full gear for either Prey or Duke until a few months before each game's release. With all the surprises we have in place for each of these games, the last thing we want to do is spoil them early.
When will they be released? All together now.. When it's done..

Posted by Joe Siegler on March 25, 1998 at 1:00 PM | Permalink
News Categories: Duke Nukem Forever | Prey