Quake II Killers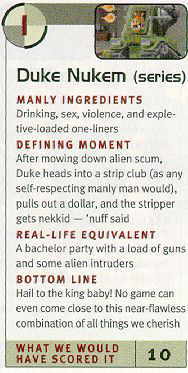 The premier issue of PC Accelerator (http://pcxl.ign.com/) just arrived, with a feature story titled, "Quake II Killers." Five Q2 Killers were chosen and scored (in parenthesis): Duke Nukem Forever (51), Prey (50), Half-Life (47), Daikatana (47), and Sin (46).
For Prey, PCXL wrote: "Portal technology is the hot, upcoming technology, and Prey kicked that off. From what we've seen [it's] truly the next step in 3D gaming. The realistic environments and complete interaction with them create a virtual world unlike any other we've seen."
Just missing the the cut for the top 5 "Q2 Killers" was Max Payne. PCXL commented: "A high action quotient working within the story-powered framework. Max has a real purpose. A murdered boss and slaughtered family provide a backbone for many twists and turns."
Also in this issue we find a fun, original article called, "The 25 Greatest Guy Games." What's the greatest manly game of all time? Need we state the obvious?! Hail to the king, baby! Duke Nukem scores another victory. Says PCXL, "No game can even come close to this near-flawless combination of all things we cherish...Drinking, sex, violence, and expletive-loaded one-liners."
This issue is out on the newsstands now - make sure to pick up a copy of it today!
UPDATE: More from the premiere issue of PC Accelerator: On page 121, in their "X-TRA" department, there's a top 10 list entitled The Power Meter, which shows the editor's choices for the most notable companies in the PC game industry. We're surprised and pleased that 3D Realms tops the list! The issue states: "With Prey, Duke Nukem Forever, and Max Payne stealing the show at this year's E3, 3D Realms established itself as the one to beat in 3D gaming."
Also on the list, Epic MegaGames takes #2, GT Interactive grabs #4, and id Software nails down #9.

Posted by Joe Siegler on August 27, 1998 at 1:00 PM | Permalink
News Categories: Duke Nukem Forever | Prey