Duke Nukem Forever Revealed in PC Gamer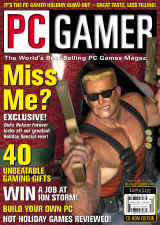 It's been over a year since the media blackout for Duke Nukem Forever (DNF) began, taking place when the switch was made from the Quake to the Unreal technology -- but finally, the just-out December issue of PC Gamer tells all and shows all in an amazing cover story!
"For the past two years, information about this highly anticipated game has been so closely guarded that you'd think national security...were at stake...So we stormed the 3D Realms stronghold to bring you the first updated look at what will be one of the hottest games of the new century."
-- PC Gamer
"[We bring you] the exclusive first look at the most anticipated game currently in development, Duke Nukem Forever...prepare to be blown away."
-- Gary Whitta, Editor-in-chief, PC Gamer
So, if you've seen the amazing screen shots (or not), now you can read all the juicy details behind them, and also hear directly from DNF's project leader, George Broussard. There's also concept art (including a color sketch of Bombshell, the new female character in DNF), and a great shot of the entire team. This will be the only official DNF article for several months, don't miss the Dec. issue of PC Gamer. Look for Duke busting his way through the Christmas cover!

Posted by Joe Siegler on November 17, 1999 at 1:00 PM | Permalink
News Categories: Duke Nukem Forever