The winning entry was submitted by Dan Rymas. It was: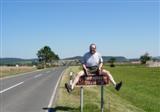 "Suddenly, with one quick snapshot of a camera, the small, quaint town of Romantische could no longer make any clever 'Romantic" remarks or comments from that point forward. In fact, the town was actually burned to the ground that very evening."

Some of the others (in no particular order):
According to recent scientific research, driving on Romantic Road does wonders for your sex appeal. We know it did no wonders for Mr. Blackburn here. (Eric A. Baker)

"Like most things in life, Germany's renowned Romantic Road leads to Steve's crotch." (Philip Atkins)

"Much to Steve's dismay, the German road sign did not translate to 'Enormous Package'..." (Doug Graham)

If you want to hitch a ride in this part of Europe you have to sit on a sign showing where you want to go and indicate the size of you manhood so that drivers have enough information to decide whether to pick you up or not. I think the place is called Queeratania. (Frank Paniz)

Yet another day for Solo Steve. Odd that Steve seems to be the ONLY one in yet another picture! (Bill New)

I mis-heard the wife, I thought she said go to Romantic Street, whereas she ACTUALLY said I needed to get a romantic streek. (Stuart Elliott)

"Having rubbed his ass on every roadsign in Europe, Steve felt a sense of accomplishment at a job well done, and could return home a happy man" (Joshua Andrews)

Unsurprisingly, no one believed Steve's stories about the size of his Romantische-StraBe. (Benjamin Kuhner)

Now you see why some drivers make a special effort to take out roadside signs... (Tom Hoelscher)

Little know fact. "Romantische Strage" mean "Dude, you shouldn't be wearing shorts" (Mark Schneider)
In reality, this is Steve Blackburn sitting on a road sign on a recent vacation to Europe.