The winning entry was submitted by Frank Perrin. It was: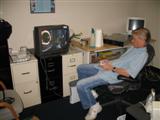 "Bryan is out spirit walking right now, please leave a message."

Some of the others (in no particular order):
This 3DR employee decided to see if his spirit could go where his body could not, however, while his body was occupied by playing Prey, his spirit never actually got around to spraying and dusting anything in the room. (Aaron Misyak)
Nope, shifting your seat sideways still doesn't let you see what's going to come through that portal. (Paul Turner)
Prey is so cool - it works magically even when your Xbox 360 is not plugged into your TV set propperly. (Alexander Dumproff)
"In a few moments, the new force-feedback chair will fling Bryan forwards and smash him against the wall, killing him instantly... We think this will be a great way to add tension to the game." (Frank Perrin)
Vibrating controller + crotch + buff native american action hero + gamer of questionable orientation + sphincterlike portals = 3DRealms' latest homoerotic fiesta. (Brian Brauchler)
Here we see Bryan Turner auditioning to be the next Maxell "Blown Away Guy". (Scott Pakin)
"Where are they now: Macaulay Culkin" (Jim Dixon)
Bryan usually gets the best results by balancing his gamepad on his joystick. (Ron Savarese)
"I was kinda disappointed in the prize being a copy of Prey. Personally, I was hoping to get more of the gift certificates until I have enough to redeem them for a controlling stake in the company and finally helping me realize my dream of raiding your hordes of caffeinated drinks." (Phil Atkins)
In reality, this is Bryan Turner playing a beta build of the full version of Prey at 3DR HQ.