The winning entry was submitted by Gautam Menon. It was: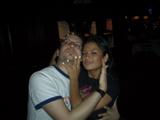 After using Crystle for voice-work instead of character modeling, they still can't get it right. Human Head should be posing Crystle, not the other way around.

Some of the others (in no particular order):
"The picture that's going to be sent with the next NASA deep space probe to introduce the human race to aliens." (Barnett Hsu)
Billiards...Aphrodisiac to the gaming industry since 1985. (Patrick Johnson Jr)
Although an expert in Phrenology, Crystle was unable to discover anything about Chris due to "hair interference." Keith Schuler, on the other hand was, and I quote, "really easy!" (Erwin Dunbar)
After losing a game of pool, Crystle decides to rip off Chris' head and s**t down his neck. (Frank Burns)
With a chick this hot, who needs captions? (Mike Poe)
Chris Rhinehart after Comic-Con dressed as Napoleon Dynamite. (Liger Zero)
Yes, it's been an exiting day at the World Brain Extraction Championship, and it now it has finally come down to our two finalists. As you can see, Chrystal is using the age old Crack-Open-From-Top-and-Bottom technique while Chris is trying a more subtle approach with his untested Pull- Through-the-Ear-Surprise. With such different methods, it's hard to say who will come out on top. Stay tuned for more brain sucking action (Jacob Williams)
Crystle: "Where the hell is the MODEL_RENDER(BRAD_PITT) switch?"
In reality, this is Chris Rhinehart & Crystle Lightning at a bar after playing some billards.