The winning entry was submitted by Andrei Vassiliev. It was: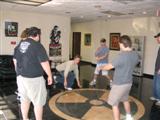 Time to kick ass and play hacky sack. And I've got plenty of sack!

Some of the others (in no particular order):
♪ Everybody was kung-fu fighting. Those sacks were fast as lightning. ♫ (Gautam Menon)
Guy kneeling on floor: "It's on the gold trefoil...that's 400 quatloos to Joe..." (Doug Graham)
Too bad we couldn't find the bottle. The ambiguity of the hacky sack is a little scary. (Khang Nguyen)
"No! Don't drop that nuclear hacky-sa..." BOOOOM (Ian Maddison)
I just can't figure it out, guys. For some reason, whenever we play Hackysack in this spot, my testicles get really hot. (Al Hunt)
In reality, this is some 3DR staffers playing Hacky Sack in our lobby one day when we had a power failure.