Megadeth to do Duke Nukem Forever Theme Song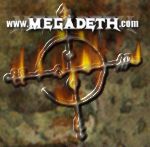 There's a couple of very new news stories floating around the next we wanted to bring to your attention...
From 3D Portal:
The folks at Megadeth.com have reported that Megadeth (heavy metal group, for those who don't know) have already recorded the theme song for an "upcoming Duke Nukem game." It's not known at this point which game will use this version. Be sure to check back often, as we'll bring any new information on this as it becomes available.
From Megadeth's Official Site:
The band has recorded the theme song for a future Duke Nukem video game. Further details have not yet been released, as is the case regarding with details on A Tout Le Monde II. More to come as it's released...
Well, I guess we couldn't expect this exciting news to not leak sooner or later. We've been working with Megadeth (and GT) to record the opening theme song for Duke Nukem Forever. So far, things kick ass, and they are going to record another version of the song soon. We'll release more info later regarding the song, but rest assured it will be cool.

Posted by Joe Siegler on March 5, 1999 at 1:00 PM | Permalink
News Categories: Duke Nukem Forever