The Apogee Legacy #7 - John Passfield

Today our "Apogee Legacy" Interview series continues with the seventh edition, this time with John Passfield. John was one of the creators of our 1994 title, "Halloween Harry" (later renamed to Alien Carnage). John's influence went beyond that though as some people who worked with him on Harry also worked with us on other projects, too (Balls of Steel and Mystic Towers come to mind here).
Carnage/Harry is unique in our product line, as it's the only game title to have a name change after it was released. That frequently happens with titles before they come out, but not afterwards! John continues to be a successful game developer in Australia, and was more than happy to help out with our Legacy series.

The Apogee Legacy
Past Pioneers of the Shareware Revolution
Issue #7 - John Passfield
First, in a little break from the norm, John also sent in a bio about himself to go with the interview:
John Passfield is a veteran of the computer games industry with more than 20 years professional experience as a games designer, lead programmer and scriptwriter on numerous award-winning titles. He is also credited as a founding member of the Australian games development community and helped establish some of the first development houses.
John was also a founding director of Krome Studios and co-created their flagship TY the Tasmanian Tiger series. He also created and owns the innovative Halloween Harry, Jaruu Tenk and Flight of the Amazon Queen properties. John is now the Creative Director of Pandemic Studios Australia.
1) How did you first come in contact with Apogee?
We're based in Brisbane, Australia and we were in discussion with Ian Mackay of Mannacom, a local software distributor to publish Halloween Harry. He happened to handle a lot of Apogee games - so we signed a deal with him and he hooked us up with Apogee.
2) Was there a reason you decided to work with Apogee, say versus going on your own or working with another company?
We really wanted to retain our Intellectual Property (IP) and weren't going to hand it over to anybody - and Apogee was very developer friendly.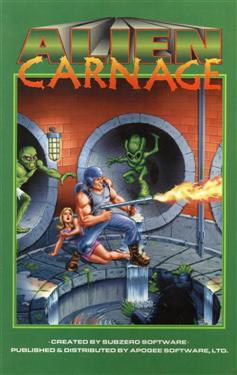 Alien Carnage Print Manual Cover
3) Looking back, was there anything Apogee could have done better, regarding the marketing and distribution of your game?
They did a pretty good job except I remember one of our European distributors stiffed Apogee and didn't pay up royalties. Apogee decided not to pursue it for whatever reason and we lost a lot of our European sales. Which sucked.
4) Do you think your game was made better or worse by working with Apogee?
From what I can remember Apogee had a very hands off approach. We pretty much made the game and let them sell it. So I don't think the partnership had any impact on the actual game. But they certainly helped get it out to the world and make us some money.
Looking back, I think we could have been more involved in the process. We were young, naïve and thought we knew it all. In hindsight I should have jumped on a plane and met up with Scott and George in person and talked about how to market the game and how to grow our business. I think we could have learned a lot from the guys and could have grown the Aussie industry a lot sooner.
5) Apogee had a policy of letting the designer or studio retain full intellectual property rights to their game. Nowadays, it's rare to find a publisher who allows this, especially if the publisher is providing the funding. Do you believe that it's best for the creator to retain IP rights? Why or why not?
Nowadays, it's rare to find a publisher who allows this, especially if the publisher is providing the funding. Do you believe that it's best for the creator to retain IP rights? Why or why not? Personally I like to own my IP. But realistically ideas are a dime a dozen. I think it's more important for developers to create quality games on time and budget and build up their reputation first. Then they can worry about owning their own IP. And remember, IP is useless unless you do something with it.
5a) And if applicable, have you benefited from retaining ownership of your own IP?
Well, the IP is generally owned by the developer - which is usually a company. In the case of TY the Tasmanian Tiger, an IP I created with Steve Stamatiadis the company we created, Krome Studios, owned that IP. As soon as I sold my share in Krome Studios I lost any interest in the property. So unless you have the IP assigned to you personally you're still in the same position as working for a publisher that owns the rights. However, when I left Krome I made sure that I was personally assigned the rights to a number of IPs that I helped create over time including Halloween Harry, Flight of the Amazon Queen, Mystery Club, Jaruu Tenk, Shadow Town, etc. I can exploit these IPs anyway I want and in some cases can derive extra revenue from them.
5b) Do you think there'll ever be a sequel to your game(s)?
Yes. I'm currently working with an independent developer to produce something new with the Halloween Harry license.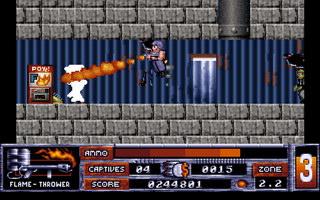 Screenshot from Alien Carnage
6) Is there any story/incident that stands out as interesting during your time associated with Apogee?
I remember visiting Ian Mackay at the Brisbane office of Mannacom in 1993 to show off the latest build of Halloween Harry and he had just received a build of the new id game from Apogee. We gathered around the PC to witness a game that very few people had yet seen: DOOM. That was pretty amazing. Here was a fast paced 3D game that would change the way games were made, and there we were with a quaint 2D side scroller!
Ed Note: In its earliest incarnation, the original Doom was still a project that id was working on to be published through Apogee. id then decided to "do their own thing" during the title's development.
7) Apogee was an early pioneer in terms of teaming up with external designers and studios, and continues to do so even to this day (currently working with Human Head Studios on Prey). Why is it that so few other studios do this (mentor and fund outside projects with lesser known teams)?
I think most publishers and developers are risk averse. I know of one company that was developing handheld games but no one would sign them. A local independent company partnered with them so they could port their PS2 game to the GBA. As soon as the GBA title shipped publishers signed them up because they were now "real" developers. That is so very typical.
8) What the biggest difference in the industry nowadays versus when you worked with Apogee?
Well, in the console space the budgets have grown obscenely large. But in the PC space I think it's gone full circle. I see Casual Games as being very similar to shareware back in the nineties. Games are developed by a small group of passionate developers, there is a try before you buy policy and most games are independent productions. But since the nineties shareware scene there have been some amazing improvements with the Casual Games industry. BBSes, for example, have been replaced by the web, everyone now uses credit cards and aren't afraid to buy stuff online, and development costs are much cheaper and the potential audience is much, much larger. There are no excuses for wannabe games makers to not make and market games today.
9) What have you been doing since your time with Apogee?
Well, I founded Krome Studios, one of Australia's largest games development companies and have worked on almost twenty published games. I recently sold my share in Krome and have joined the Pandemic Studios Australian team as their Creative Director. I've also been creating shareware style games in my spare time - the latest one being Word Shake which is available from Casual Games Arcade. I've also married and started a family - which is one of the best projects I've had the privilege of working on!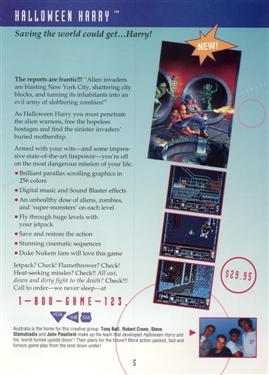 Halloween Harry from our 1993 Print Catalog
10) If you're no longer making games, have you thought about returning to this industry? If not, why not?
N/A
11) Looking back, are there any missed opportunities that you wish you'd have jumped on?
Professionally, we didn't have a viable business until 1999 when we formed Krome Studios. I think that moving to the States when Alien Carnage/Halloween Harry came out would have accelerated that process by at least five years. So I think I missed the opportunity to grow the business faster - but you live and you learn!
12) Other than your game(s), what's your favorite game released or produced by Apogee (or 3D Realms)?
Wolfenstein 3D was pretty cool!
12a) And what's your favorite 2-4 games released by anyone else?
My favourites are Monkey Island, Day of the Tentacle, the Zelda series and Mario 64.
Just recently I've been digging the new games on PSP and Nintendo DS - Mario Kart, GTA: Liberty City Stories and Animal Crossing all rock. I love these new handhelds!
13) Is there anything else you'd like to add about your time here or to fans of your title(s)?
Check out Casual Games Arcade to grab some quality PC and Mac games. These are the spiritual successors to the shareware games we grew up with! Oh, this is probably the place where you'll see the new Alien Carnage/Halloween Harry game first!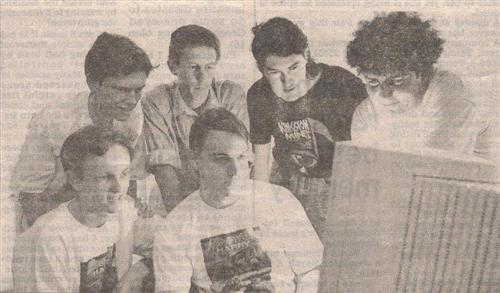 The Alien Carnage team from a newspaper scan in 1994.
Top Row (L-R): Darren Baker, Tony Ball, John Passfield, Steve Stamatiadis
Bottom Row (L-R): Steven Baker, Robert Crane
---
Thanks to John for taking the time to send in his interview, as well as the old newspaper clipping image. While Alien Carnage is no longer available from us (it was discontinued a few years ago), his other projects are up and running. Check 'em out:

There is also more information on Carnage/Harry on our archived catalog page for the game here. There's more to read over at Classic DOS Games Archive. Finally, you'll want to read the Halloween Harry entry in the Apogee FAQ, which talks not only about the game's name change, but the two sequels to the game (Zombie Wars & Halloween Harry 3D), as well as an aborted TV series about the game.
Make sure and tune in again next Monday morning, when we bring you the next in our Legacy Interview series.
Posted by Joe Siegler on February 20, 2006 at 12:00 PM | Permalink | Discuss this story on our forums
News Categories: About 3DR / 3DR Staff | The Apogee Legacy