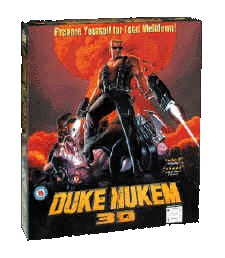 The third chapter in the series, and the first with a 3D perspective (the original Duke Nukem and the sequel, Duke Nukem II, are side scrolling platform games). This game, set sometime in the early 21st century, begins in a ravaged LA, which was overtaken by aliens while you were abducted during Duke Nukem II. Duke, upon returning to Earth, finds himself with another mess to clean up, and another alien race that needs exterminating. Duke is a can-do hero who realizes that sometimes innocent people have to die in order to save Earth, so accuracy of gun fire is not a real concern to him. :)
This game has a long list of cool things that haven't been attempted in 3D action games, yet. The weapons, for example, kick-butt:
There's a mine that can be placed on any wall and sends out a laser trip beam-- perfect for multiplayer games.
There's also a shrinker ray that reduces an opponent to the size of a G.I. Joe, at which point they are foot fodder--watch them splat!
As in Shadow Warrior, you can swim under water, and even shoot players who are standing outside the water, or vice versa.
Originally released January 29, 1996.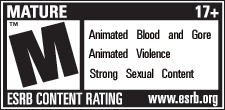 Plutonium PAK? Atomic Edition? What's all that about?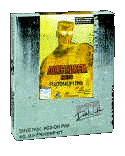 Until November 1996, the only registered version of Duke Nukem 3D was v1.3d. We created a new version that had a new fourth episode, and we changed the version to v1.4 - We also gave that a new name - "The Atomic Edition". In order to upgrade customers who had the registered v1.3d CD, we created a patch that could be purchased - that patch was called "The Plutonium PAK".
In December 1996, we updated it again for a few minor bug fixes, and the version number was again changed to v1.5. Both v1.4 and v1.5 are "Atomic". The term "Plutonium PAK" refers ONLY to the patch you need to use to upgrade an existing copy of v1.3 to v1.4. (There is a further patch available online for free to upgrade a v1.4 to v1.5).
Using 'The Plutonium PAK' will result on your copy of Duke Nukem 3D becoming 'The Atomic Edition' - The term "Plutonium PAK" refers only to the actual patch. The resultant game is called 'The Atomic Edition'. If this is all confusing, your best bet is to forget about the names and use use the version numbers. :)
In short, if you had the old 3 episode registered version (the registered v1.3d CD), you want to get the Plutonium PAK (and the 1.5 free patch online), and if you don't have any Duke Nukem at all, or just the shareware, you need to buy the "Atomic Version" CD. If you buy the Atomic version, you are done.
We no longer sell the old registered version, we only sell the Atomic Edition. Furthermore, in October of 2001, the Plutonium PAK was discontinued. Contact Customer Support for more information about this.