The Apogee Legacy #17 - Mark Randel
Mark Randel is the subject of our latest legacy Interview. Mark is one of the founders of and is the current CEO/Owner/President of Terminal Reality. Terminal Reality (or TRI) is another local gaming company here in the Dallas Metroplex. Their first game was published with us back in 1995, and that was "Terminal Velocity". Mark Randel came from Microsoft, and was one of the folks responsible for (at that time) the Microsoft Flight Simulator series. He took that knowledge and founded TRI. They have gone on to publish many games through many people, including the little known two sequels to Terminal Velocity (Fury3 and Hellbender) through Microsoft. They're also responsible for BloodRayne 1 & 2 as well as many other titles. For us they only did the one title, but it was an important one.
Terminal Velocity was also the launch of the 3D Realms brand name. As such, TRI had a lot of added pressure I'm sure in that it was the launch of our new "3D Games" brand. This branding was later continued with the Pinball Wizards line (of which we have a Legacy Interview pending for that too). However, TRI and Terminal Velocity was the first foray into this concept of branding. Of course, since then, the 3D Realms brand has been used almost exclusively, and has become the defacto name of the company, but back in 1994 when the idea was first originated, "3D Realms" was a gamble.
One other final note. This interview comes out on May 1, 2006. That's 11 years to the day that the original v1.0 of Terminal Velocity was released; happy birthday! Here's Mark's interview; enjoy!
The Apogee Legacy
Past Pioneers of the Shareware Revolution
Issue #17 - Mark Randel
1) How did you first come in contact with Apogee?
We first came in contact with Apogee due to proximity; they were already well established in the area when we started up in the Dallas Metroplex.
2) Was there a reason you decided to work with Apogee, say versus going on your own or working with another company?
The potential for working with Apogee was really attractive: at that time they were the premier publisher for independent game studios trying to make it big in the industry.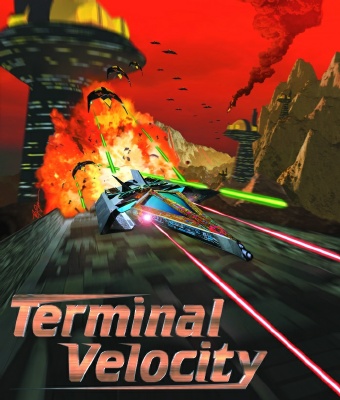 Terminal Velocity Artwork
3) Looking back, was there anything Apogee could have done better, regarding the marketing and distribution of your game?
I think Apogee/3D Realms did a great job marketing Terminal Velocity. As is their policy even now, they were really careful with every aspect - from picking the title to positioning the logo on the box for maximum visibility. At the time when they started the 3D Realms brand, it was scary being the first title under it. Nobody knew it, and everybody knew Apogee. Nowadays, it is kinda the other way around.
4) Do you think your game was made better or worse by working with Apogee?
Definitely the game was made better. We had a flexible schedule, which we ourselves finally pushed to get the game out the door. There were a lot of ideas that Scott & George had that in hindsight would have made the game even better, but we really wanted to get our first title shipped and probably rushed it out too quickly.
5) Apogee had a policy of letting the designer or studio retain full intellectual property rights to their game. Nowadays, it's rare to find a publisher who allows this, especially if the publisher is providing the funding. Do you believe that it's best for the creator to retain IP rights? Why or why not?
Of course, it is always better for the developer to retain full IP rights to its titles. It is not always possible in this day and age for many reasons. Very high development budgets often call for licensed properties such as movies, comic books, etc., so there is no way to own that yourself. Also, publishers see a lot of risk in taking on new IP, so they would like a cut of that if they are fronting the development money for it. We have always kept the license to our engine, which for us is very important.
5a) And if applicable, have you benefited from retaining ownership of your own IP?
We have benefited from owning our IP and engine. It makes us more valuable as a company. Also, we are going to get into the engine licensing business starting with our full featured Infernal Engine for PSP. We have the first full development platform for the PSP, with radiosity lighting, physics, vehicles, indoor/outdoor rendering, streaming, etc., that we will be announcing formally soon.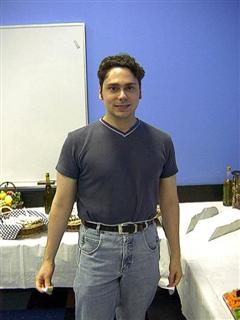 Mark in 1999 at the Fly! Release Party
5b) Do you think there'll ever be a sequel to your game(s)?
I would love for there to be a sequel of Terminal Velocity someday--if it made good sense. If everything were to come together - a great idea, funding, etc., then it would be really cool to work on again. Scott, George, care to fund Terminal Velocity II?!?!?!?
6) Is there any story/incident that stands out as interesting during your time associated with Apogee?
Any interesting story during development of Terminal Velocity? Sure! He'll probably hate me for this, but Tom Hall was our producer at the time, and every time we went out for lunch, he would order "ice tea with no lemon and no spoon" every time to drink. I guess that little bit of eccentricity is what makes him a really creative individual.
Ed Note: There's a website about Tom's Iced Tea thing here.
7) Apogee was an early pioneer in terms of teaming up with external designers and studios, and continues to do so even to this day (currently working with Human Head Studios on Prey). Why is it that so few other studios do this (mentor and fund outside projects with lesser known teams)?
It's different for each developer. We're so completely focused on producing our own titles (especially moving into next-gen production) that we simply don't have the bandwidth. We are working with a few developers in various capacities on some unannounced projects right now.
8) What the biggest difference in the industry nowadays versus when you worked with Apogee?
The biggest difference from now and when we worked on Terminal Velocity was the budgets and team sizes. We made it with less than $500K with about 8 people, now it takes over ten times that amount of money and at least 5 times that many people.
9) What have you been doing since your time with Apogee?
We've been busy making games for the past decade. We did the Monster Truck Madness series for Microsoft, The Fly! series, 4x4 EVO series and Nocturne for Gathering of Developers. We made the BloodRayne series a big hit for Majesco. We are currently finishing up Spy Hunter: Nowhere to Run for Midway. Those are some of our highlights, and we have some new stuff in development as well...
Terminal Velocity Screenshot
10) If you're no longer making games, have you thought about returning to this industry? If not, why not?
N/A
11) Looking back, are there any missed opportunities that you wish you'd have jumped on?
Sure, there are always missed opportunities--we passed on one development opportunity that went to another developer and wound up selling millions of copies. That's life. But there will be plenty more of them to miss in the future. You make the best decision you can at the time given the information you have, and use what you continue to learn to shape later decisions.
12) Other than your game(s), what's your favorite game released or produced by Apogee (or 3D Realms)?
Other than what we released, we loved Duke Nukem, and are still waiting for Duke Nukem Forever.
12a) And what's your favorite 2-4 games released by anyone else?
Favorite games by other people? There are probably dozens - Katamari Damacy comes to mind. The new Prince of Persia series. GTA on the PSP is really fun. Ico, a long underappreciated PS2 game that everyone in this industry needs to play.
13) Is there anything else you'd like to add about your time here or to fans of your title(s)?
Checkout our website at http://www.terminalreality.com for a glimpse of what we are currently working on. And we always love to hear from our fans!
---
Thanks to Mark for taking time out of his busy schedule to answer some questions about the past. We still sell Terminal Velocity today, so you can check out these links below:
Make sure and tune in again next Monday morning, when we bring you the next in our Legacy Interview series.
Posted by Joe Siegler on May 1, 2006 at 1:27 PM | Permalink
News Categories: About 3DR / 3DR Staff | The Apogee Legacy