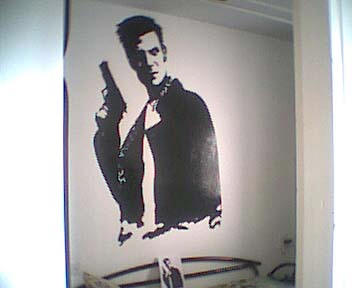 by Shai Simal of Wisconsin
September 27, 2001
From our forums comes a cool story of someone really really being into Max Payne. A forum member of ours named "Shai" had repainted their bedroom with the Max Payne logo. Check out the picture above.
Here's what he had to say about the wall painting.. "It all started when I had repainted my room. I want to add something to it, to make it spicier. Well, I had an idea which came true just a few moments ago. I made a giant, Max Payne Logo and put on my wall."
Here's some info he posted on our forums about how he made it.
Well. The idea went through few stages. Originally, I planed to draw a grid on the wall, print the logo with grid on it, copy to the wall, delete the grid and paint it. After I draw the grid (which took me about 6 hours to make it good enough), a friend of mine (he is a signs maker) came over to my house and he said he could use his machines to make my work a lot easier (of curse, I had to deleted my grid. after all that hard work! it took me about an hour to paint over it). So basically, I gave him the picture file, he enlarged it to the size I wanted, and he putted on a giant sticker. Later we sticked it on the wall and that's it.
He then sent along some other pictures, which you can click on below. He did go on to say that the picture of him with the gun is a toy gun. :)