The Apogee Legacy #18 - Petri Jarvilehto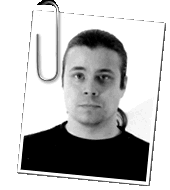 Our Legacy series marches on today with it's 18th entry in the fifth month. Today's edition is with with Petri Jarvilehto of Remedy Games. Petri has been involved with several games with Remedy and 3D Realms. The first one was a car racing game in 1996, called Death Rally (one of the final games under the old Apogee label). Remedy then went on to make the runaway hits "Max Payne", and "Max Payne 2: The Fall of Max Payne" that 3D Realms produced.
Petri has some interesting insight in that he worked with us under the old Apogee label, as wel as the 3D Realms label more recently. If you were a fan of Remedy and Petri's work, you'll want to read his interview, which he wrote a preface for:
[ Remedy has worked with Apogee both with the older shareware concept/label (Death Rally), as well as with the 3D Realms label (Max Payne games). Considering that this is a legacy interview I'll just focus on the older times :-)]
The Apogee Legacy
Past Pioneers of the Shareware Revolution
Issue #18 - Petri Jarvilehto
1) How did you first come in contact with Apogee?
Back in '95 when Remedy was starting, we did a quick demo of the racing game we wanted to create and sent that over to all of our publishing contacts. Apogee was looking like the best fit for the game, so we ended up signing the game with them.
2) Was there a reason you decided to work with Apogee, say versus going on your own or working with another company?
We were just starting up, so going on our own wasn't really an option.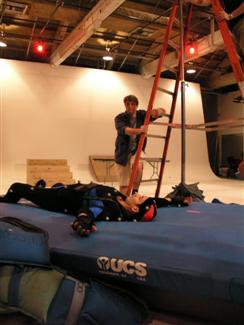 Petri during motion capture sessions for Max Payne 2 in New York.
3) Looking back, was there anything Apogee could have done better, regarding the marketing and distribution of your game?
Not much. Getting GT Interactive involved and eventually having them handle the retail box sales and still retaining the direct shareware distribution was a really good combination at that time.
4) Do you think your game was made better or worse by working with Apogee?
Death Rally definitely benefited immensely from having Scott and George involved. We were quite newbies at that point, so having people with their experience levels working with us made a big difference.
5) Apogee had a policy of letting the designer or studio retain full intellectual property rights to their game. Nowadays, it's rare to find a publisher who allows this, especially if the publisher is providing the funding. Do you believe that it's best for the creator to retain IP rights? Why or why not?
IP rights can be incredibly valuable, and it's always fantastic if the developer can retain those rights. Developers who own their IP usually have even stronger motivation to create the best possible game out of it.
5a) And if applicable, have you benefited from retaining ownership of your own IP?
Definitely.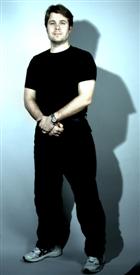 Petri in Feb of 2006
5b) Do you think there'll ever be a sequel to your game(s)?
Well, as much as I would love to see Death Rally 3D (or DR 2), I don't think that'll ever happen. As to the Max Payne series, I definitely wish that we'll see a Max Payne 3.
6) Is there any story/incident that stands out as interesting during your time associated with Apogee?
Loads of stories. We did hide some of them as easter eggs in Max Payne 1 and 2 :-)
7) Apogee was an early pioneer in terms of teaming up with external designers and studios, and continues to do so even to this day (currently working with Human Head Studios on Prey). Why is it that so few other studios do this (mentor and fund outside projects with lesser known teams)?
It's pretty risky, especially nowadays that the investments involved are so much larger.
8) What the biggest difference in the industry nowadays versus when you worked with Apogee?
The industry has changed vastly. Sometimes it feels like the industry in its current form was only begun in the early nineties, and everything operates on massively different scale nowadays. Production has changed from a bunch-of-guys-in-a-basement into massive almost movie-scale projects. Game design, code, pretty much every aspect of game development has seen radical changes in methodology and process.
In early 90's gaming was pretty much only something the nerds would do, whereas nowadays the mainstream acceptance is pretty much a given and game productions are high profile stuff that get a lot of visibility.
9) What have you been doing since your time with Apogee?
We'll around the time of shipping Death Rally, Apogee re-branded into 3DR and shipped Duke Nukem 3D. We had a good development relationship going forward and created the Max Payne games (where again, the input from Scott and George was invaluable, especially on Max Payne 1). I worked as the Project Lead on Max1 and in the Lead Game Designer role on Max Payne 2.
More recently, Remedy is now developing the Alan Wake game series, and I'm leading the game design on those.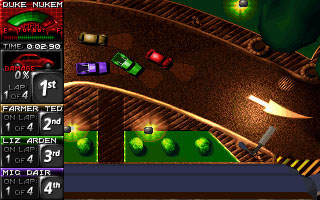 Death Rally Screenshot
10) If you're no longer making games, have you thought about returning to this industry? If not, why not?
Still here, and no plans of leaving the industry. With the increased budgets and production capabilities, it's all just getting even more interesting.
11) Looking back, are there any missed opportunities that you wish you'd have jumped on?
Not really. I think we've always been pretty good at taking advantage of the most promising opportunities and the ones we haven't jumped on... well, usually there's been pretty solid reasons why they wouldn't have worked for us, so there's no point in second guessing them now.
12) Other than your game(s), what's your favorite game released or produced by Apogee (or 3D Realms)?
Out of the older Apogee classics, Raptor is something that I really got a kick out of. Any arcade game where you're never supposed to let go of the fire button is ok in my book.
12a) And what's your favorite 2-4 games released by anyone else?
Nowadays, I'm finding myself playing more and more semi-obscure japanese RPG variants. Games like Disgaea or Fire Emblem series and so on. The most recent game that I found completely stunning was Shadow of the Colossus. The sheer audacity of the game design is fantastic (even if the control scheme is a bit borked ;).
13) Is there anything else you'd like to add about your time here or to fans of your title(s)?
Not that much. We're grinding away with Alan Wake, and I'm really excited on how the game is shaping up. Can't really talk about it yet though.




Unused logos for two of Death Rally's former names.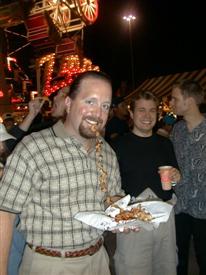 Petri smiles as Steve Blackburn of 3DR knaws on food at the State Fair of Texas. Sam Lake is oblivious.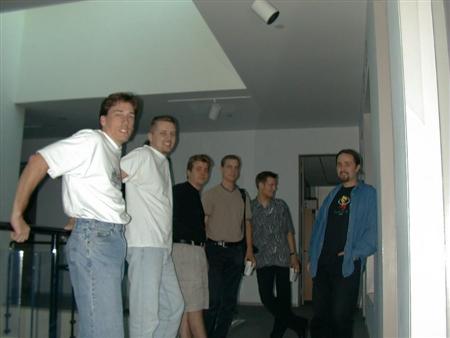 Developers at Gathering of Developers (L-R): Mike Maynard, Jonathan Wright, Petri, Markus Stein, Sam Lake, & Sverre Kvernmo.

---
Thanks to Petri for taking time out of his busy Alan Wake schedule to help out with the answers and some pictures. All of Remedy's games are still available for sale, so check out these pages (please not that 3DR no longer sells Max Payne 1 or 2).
Make sure and tune in again next Monday morning, when we bring you the next in our Legacy Interview series.
Posted by Joe Siegler on May 8, 2006 at 3:31 PM | Permalink | Discuss this story on our forums
News Categories: About 3DR / 3DR Staff | The Apogee Legacy